YungBlud, 'The Funeral' – Single Review ★★★★☆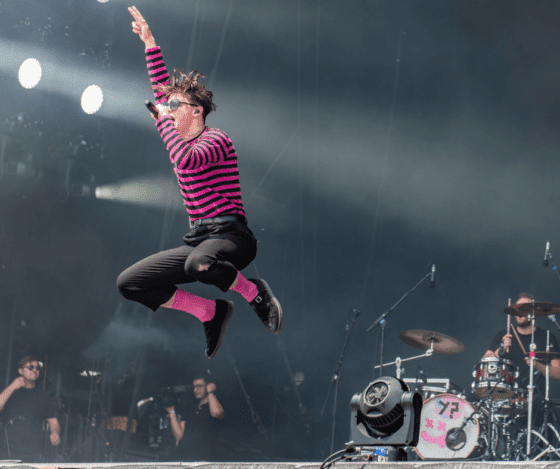 Jump To The Discussion ↓
'The Funeral' by YungBlud – Single Rating: 4/5 ★★★★☆
YungBlud is rocking the GSGM camp once again with his new release, 'The Funeral'. The new single from the Doncaster-born singer-songwriter is out now, and it also comes with a spectacular music video that features Ozzy and Sharon Osborne.
This song has a Billy Idol flavour, and it bears an uncanny resemblance to 'Dancing With Myself' from 1982. So much so that it initially seemed like a cover of Billy's classic tune, but with fresh lyrics. Nonetheless, YungBlud manages to inject his own distinct flavour into the mix, and his energy is palpable. He sings with passion, demonstrating why he is one of the most exciting performers to emerge in recent years.
The song is upbeat, and its texture strikes us in the face. Furthermore, the drums pummel with stunning cadence, drawing us in with each hit. Also, the guitars rip through the speakers with power, adding to the already firm foundation provided by the bass.
The track's structure varies as it proceeds, and there is no predictability within the experience. Furthermore, YungBlud adjusts his style regularly, wandering between diverse sounds and producing a constantly evolving soundscape. His vocals also captivate, with him standing out to other singers in the scene at the moment. Also, he manages to blend emo with an 80s aura flawlessly, and he compels for the entirety.
You can take a listen to 'The Funeral' by YungBlud below. Also, be sure to let us know your thoughts on this new release by commenting beneath this article. As always, we love to hear your feedback. So, do you think this is one of the best new releases from YungBlud? Also, are you looking forward to hearing more new releases from him this year?
Follow The Playlist Below For More New Music!
Latest posts by Emily Harris
(see all)