Wolf Alice, 'Smile' – Single Review ★★★★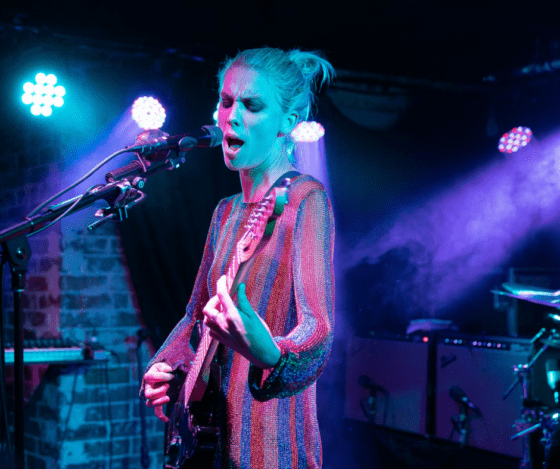 Jump To The Discussion ↓
'Smile' by Wolf Alice – Single Rating: 4/5 ★★★★
London-based Wolf Alice flip their sound on the head once again with a new release, 'Smile'. The track is somewhat the polar opposite of their 'Last Man On Earth' from earlier this year. Instead, it heads back to the group's roots with a raw edge that is instantly compelling.
Opening the piece is an eerie overture with a high pitched modulated synth paving the way ahead of a thumping drum rhythm and a heavy guitar riff soaked in atmospheric flavour. Once all the instruments come together, the mix hits with omnipotent texture; also, the sounds rise the echelon with captivating prowess.
Ellie Rowsell
Ellie Rowsell sings with her unorthodox signature approach. Also, she proves to have the rock shine with her gritty vocals, leaving us gripping onto every note. Again, a complete comparison to earlier releases this year and a vocal performance that sounds somewhat similar to the bands very early hits like, 'Yuk Foo'.
As the track progresses, Wolf Alice prove to be as hungry as ever for reaching the top, and they get down to business, often showcasing their mesmerizing class. Furthermore, the mix takes a brief step back with the bass riff licking the speakers before the group unleash a colossal rock finale in the closing passage. Here, the drums take no hostages, and they smash through with thunderous bite. Likewise, the guitars fill up the spacious compound with stadium energy, and Ellie chucks us off the chair with her vocal endowment.
Great track this one, but yet one which leaves us all wondering what will be next?
You can take a listen to 'Smile' by Wolf Alice below. Also, be sure to let us know your thoughts on this new release by commenting beneath this article. As always, we love to hear your feedback. So, which do you prefer out of their new releases, 'Last Man On Earth' or 'Smile'?
---
Latest posts by Emily Harris
(see all)