Saskia Griffiths-Moore & Chandra Chakraborty, 'Together In Love And Separation' – Album Review ★★★★★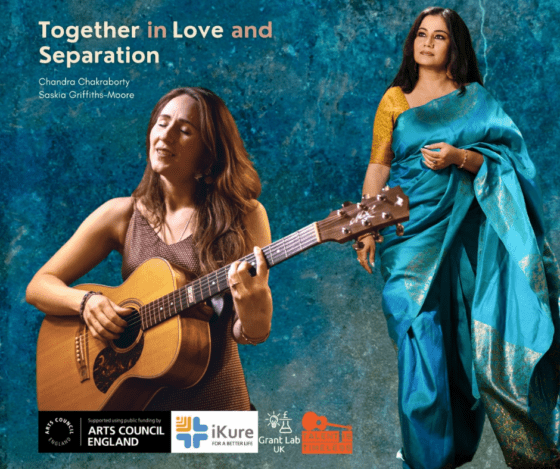 Photo Credit: Saskia Griffiths-Moore & Chandra Chakraborty
Jump To The Discussion ↓
'Together In Love And Separation' by Saskia Griffiths-Moore & Chandra Chakraborty – Album Rating: 5/5 ★★★★★
National Scholar Chandra Chakraborty and pioneering folk singer-songwriter Saskia Griffiths-Moore seize the spotlight with their new album. 'Together In Love And Separation' is out now!
The album shines a light on the beautiful traditions of classical India and the folk culture of the western world. It is an enticing album. Also, even those who rarely dip their toe into this type of music will have a hard time turning it off as it provides a respite from the crazy world!
Reminding us of the significance of history and the work laid down by our ancestors, the album leaves us in awe. The vocals are divine. Also, the music is breathtaking, with a plethora of sounds and styles emerging as the album proceeds. Also, it has left us wondering why two performers from different corners of the world have not come together like this previously.
Saskia and Chandra were to perform at Cecil Sharp House on the 19th of July in London alongside the London Chamber Orchestra to celebrate the album. However, due to extreme heat at the time, the event could not go ahead and is now to take place at another time. The show follows the ladies' performance at the Royal Albert Hall, which took place earlier this year.
So, wait no longer! You can take a listen to 'Together In Love And Separation' by Saskia Griffiths-Moore and Chandra Chakraborty below. Also, be sure to let us know your thoughts on this new release by commenting beneath this article. As always, we love to hear your feedback. So, do you think this is one of the best new albums in this space? Also, what is your favourite track from the album?
Follow: https://twitter.com/saskiagmsings
Be Sure To Follow The Playlist Below For More New Music!
Latest posts by Emily Harris
(see all)