My Chemical Romance, 'The Foundations Of Decay' – Single Review ★★★★☆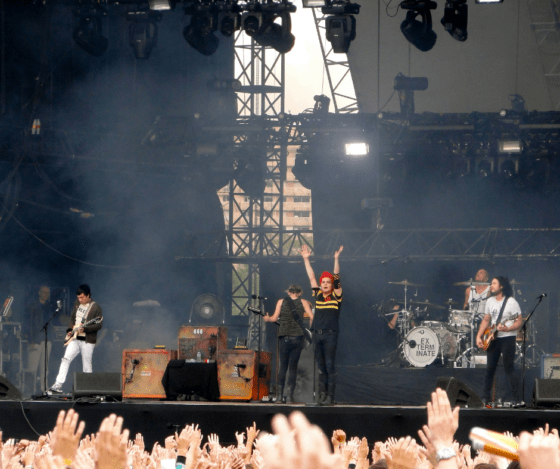 Jump To The Discussion ↓
'The Foundations Of Decay' by My Chemical Romance – Single Rating: 4/5 ★★★★☆
My Chemical Romance, the American rock band, are back with new single, 'The Foundations Of Decay,' which serves as a reminder of their aptitude and an indication that they are back at their best! The band parted in 2013 before reuniting in 2019, and this is the first song they've released since then.
The band starts off slowly in the opening, but their trademark profound quality leaps out from the start. In the overture, there is an ascending piano arrangement that gradually meets Gerard Way on lead vocals. The guitar plucks away with a piercing tonation with a tapping drum rhythm, unhurriedly building the track. The band, though, do soon get back to normal business with their stadium-filling chorus!
Intensity
Furthermore, in the refrain, the band's ferocious intensity and energy reaches a boiling point, with an anthemic atmosphere taking over the airwaves. Gerard Way's passion is indenting, and he uses his wordplay to speak openly about a variety of issues and concepts. The core of his story is that society typically goes on, coasting through existence, oblivious to the reality that the world is in chaos and that change often comes after something awful happens.
Gerard's lines are bold and thought-provoking, and they mirror the mood of the music, which is dramatic and full of twists and turns; a musical and lyric experience that only MCR could carry off after such a long absence from the rock realm.
So, wait no longer! You can take a listen to 'The Foundations Of Decay' by My Chemical Romance below. Also, be sure to let us know your thoughts on this new release by commenting beneath this article. As always, we love to hear your feedback. So, do you think that this is one of the best new songs from My Chemical Romance? Also, are you excited about this new era for the group?
Be Sure To Follow The Playlist Below For More New Music!
Latest posts by Emily Harris
(see all)