Guy Hale Interview With Colby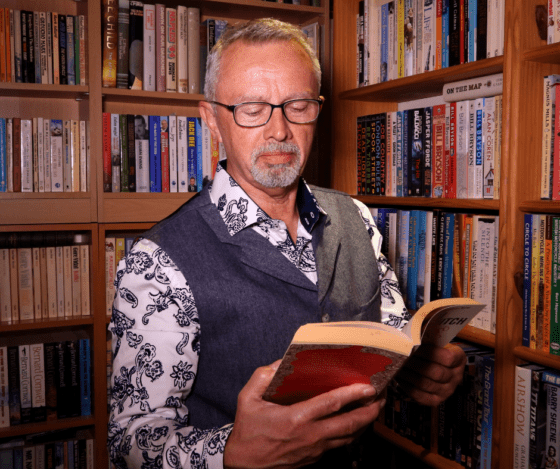 Photo Credit: Guy Hale
Jump To The Discussion ↓
Guy Hale, the author, welcomes you to his crazy world! Most would stop having an adventurous experience in the music business with two transatlantic recording companies under his credit as well as songwriting for notable blues performers like Kid Anderson, Mike Zito, and Albert Castiglia. Wrong! Nothing can hold Guy back and he is once again at the fore with his new novel, 'Killing Me Softly' a book soaked in inspiration following his travels on the road in America during the worldwide pandemic.
Set in the Nevada desert, 'Killing Me Softly' begins with an exciting introduction to Jimmy Wayne, a down-on-his-luck singer-songwriter whose fortunes change when he realises he's created the finest song he's ever written. However, reality sets in when he realises the song was composed after he unwittingly committed a murder. The book is out now and it is not be missed!
Lucky for us, Guy stopped by for a chat to discuss the new novel.
Colby: Guy, thank you for sharing the soundtrack to your book, 'Killing Me Softly', was it always your intention to add a soundtrack?
Guy: When l started to write the book, the songs seemed to be a natural development. I wanted to know what they said and then how they sounded. As l own a couple of Music Labels it wasn't hard to get them recorded and my partner in Gulf Coast records, Mike Zito was the man to do it. Mike gave me the idea for the novel when we were having dinner in LA one evening in Jan 2020, about two weeks before Covid got going. He had a dream about a singer who could only write a song when he killed someone. That was all I needed. I told him, "I'll write the books and songs and you can sing them." And that's more or less how it happened. I'm already writing book three and that one will also have a soundtrack album. There is no album for book two as it doesn't occur in the second book so it wouldn't fit.
Colby: How do you even go about putting a soundtrack together for a novel like this, presuming you are well connected with musicians?The Most To You?
Guy: Please see the answer to question one. I am the proud owner of two Labels. Gulf Coast Records in the US with Mike Zito and Hillside Global in the UK.
Colby: What was it like working with Mike Zito and Kid Anderson?
Guy: Mike Zito and Kid Andersen are close friends and l have worked with both of them before this on many albums as an executive producer and songwriter. They are both hugely talented musicians and producers but more importantly, they are both wonderful human beings. Every hour in their company is a delight and privilege, for them too! J
Colby: Where do you go to find inspiration while writing?
Guy: Inspiration is not a problem for me, l have an overactive imagination. Currently, l have the first Jimmy Wayne Trilogy underway and another series set in Stratford on Avon in the mid-1970s down to start Spring 2023. The second Jimmy Wayne book is finished and will be released in October/November 2022 with the third and final part of the Comeback Trail Trilogy set to land in March 2023. There is a second Jimmy Wayne Trilogy planned, no specific dates have been set yet.
Colby: Lastly, what can we expect with the next volumes?
Guy: In the second Jimmy Wayne novel, Blood on The Tracks, Jimmy and the band travel to LA to make the record using the songs inspired by his murders. There they get to meet the gangster Jack Lantern's far more frightening mother, Ma Lantern. John R Deal, a 183-year-old Bluesman who looks about 65 comes into Jimmy's life like a guiding angel and helps him steer his way through the pitfalls and dangers of Vegas and LA.
In the third novel, All the Worlds a Stage, Jimmy is sent on tour to Europe. The band have become very successful and an extensive world tour seems like a good idea but his label is part-owned by the Lanterns and European gangs assume that Jimmy's tour is a front for Lantern's expansion of his crime empire into Europe. Jimmy and the band get caught in the middle with unexpected consequences.
You can purchase the book here.
Latest posts by Colby Morrel
(see all)