Weezer, 'SZNZ: Spring' – Album Review ★★★★☆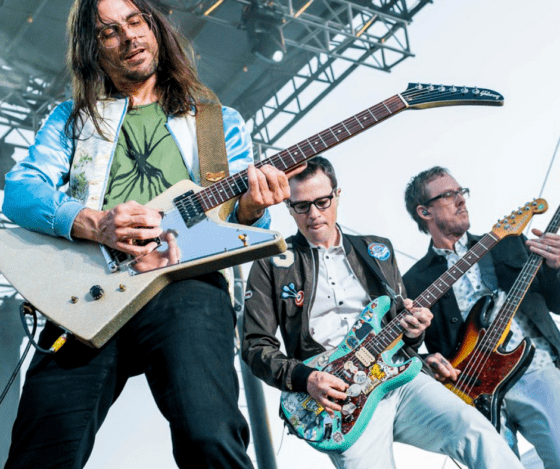 Jump To The Discussion ↓
'SZNZ: Spring' by Weezer – Album Rating: 4/5 ★★★★☆
The new album, 'SZNZ: Spring' by Weezer, has piqued our interest! It is a compilation of seven songs by the band and one of four EPs that the group plans to release over the next year to reflect the changing seasons.
The EP opens with 'Opening Night,' and the Rivers Cuomo-fronted band brings an archaic atmosphere to the vanguard, one that we weren't anticipating, to be honest. Furthermore, it perplexes our brain, but for the right reasons; we hear the modern, college music-sounding Weezer, but there is also a sound that dates back hundreds of years. Yet, Weezer quickly returns to their typical chirpy sound with a chorus that has us grasping to its every note.
Each tune has a similar theme, beginning with an unorthodox entrance before transitioning into classic Weezer territory. Four tracks in, we're welcomed with 'The Garden Of Eden'. It is potentially the group's most catchy track in recent memory. The synchronised drumming fastens itself like adhesive to the band's crunchy guitar tone, while Rivers' melody ingrains itself in mind.
The album's final track, 'Wild At Heart,' takes a huge leap forward with an energetic rhythm. Also, the power it provides leads us to the next EP, which will be out in the summer.
You can take a listen to the first EP, 'SZNZ: Spring' from Weezer's new project inspired by Vivaldi's The Four Seasons below. Also, be sure to let us know your thoughts on this new release by commenting beneath this article. As always, we love to hear your feedback. So, do you think that this is one of the best new albums from Weezer? Also, are you looking forward to the remaining three EPs?
Follow The Playlist Below For More New Music!
Latest posts by Emily Harris
(see all)