Weezer, 'A Little Bit Of Love' – Single Review ★★★★☆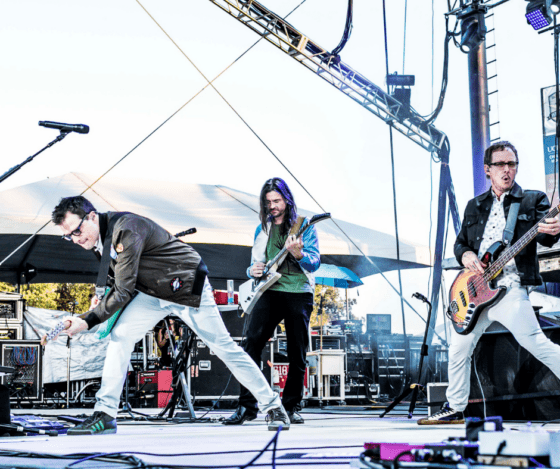 Jump To The Discussion ↓
'A Little Bit Of Love' by Weezer – Single Rating: 4/5 ★★★★☆
'A Little Bit Of Love' by Weezer is vibrant and euphoric, and we cannot get enough of it! The band from Los Angeles fascinate us just as they did when they first soared to fame in 1994 with 'The Blue Album.' This new single from the band continues their indie adventure and fills a need in the industry. It's from their most recent EP, 'SZNZ: Spring'.
'A Little Bit Of Love' begins with a ukulele rhythm that strums in a contagious style. The ukelele also shows up with a melodica arrangement. The intro alone demonstrates that Weezer are not afraid to push the envelope, and their versatility is displayed here. Rivers Cuomo, the lead singer, then reaches for the microphone, and his distinct vocal timbre draws us even deeper into the speakers.
Unpredictability
The beat tap injects new life into the production and gradually culminates to an epic refrain. The chorus is as catchy as they come, and Weezer's indie quality shines through. However, there is still a lot of unpredictability within the structure. Also, the hooks arrive with fresh zeal from the group, which have now released 37 singles. Furthermore, they manage to reinvent themselves subtly while keeping the sound that catapulted them to the top of the scene in the first place.
'A Little Bit Of Love' is the perfect track for the current season, uplifting and rejuvenating and a reminder that everything will be OK!
You can take a listen to 'A Little Bit Love' by Weezer below. Also, be sure to let us know your thoughts on this new release by commenting beneath this article. As always, we love to hear your feedback. So, do you think that this is one of the best new releases from Weezer? Also, what is your favourite song from their new EP, 'SZNZ: Spring'?
Follow The Playlist Below For More New Music!
Latest posts by Emily Harris
(see all)