Arcade Fire, 'The Lightning I, II' – Single Review ★★★★☆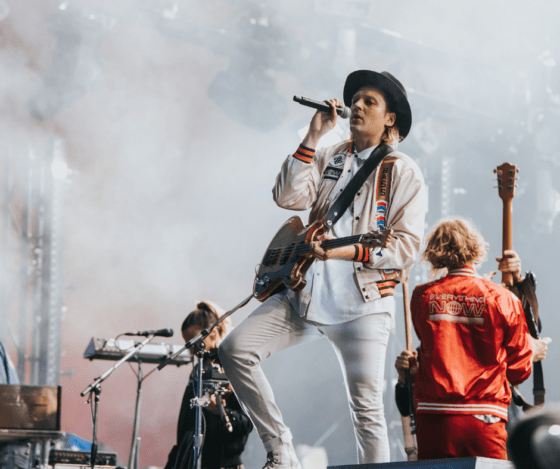 Jump To The Discussion ↓
'The Lightning I, II' by Arcade Fire – Single Rating: 4/5 ★★★★☆
Arcade Fire, the Canadian indie rock band, have knocked us for six with their new release, 'The Lightning I, II'. The release, which includes two tracks, 'The Lightning I' and 'The Lightning II', reminds us why this band are among the greatest! The official video for the song concatenates the releases; therefore, we'll treat them as a single entity in this review, as they both lead and transition to each other almost as if they're one!
It all starts with 'The Lightning I'. Here a strong piano ushers in the new era for the band that rose to prominence in 2004. The strings then propel the tune forward into an instantly ear-pleasing guitar rhythm. The passion from each member is evident as the nail-biting hooks soar to the surface in classic Arcade Fire fashion. Also, a piano melody prepares us for what is sure to be an epic journey from the six-piece ensemble, which was formerly a seven-piece before Will Butler quit to try "new things".
As the band enters 'The Lightning II', the tone becomes less melancholy and more upbeat, with newfound energy bursting out. Also, the drum picks up speed and the group strike with even more vigour!
'The Lightning I, II' is now available and is taken from the band's upcoming new album 'We', which will be out on May 6th.
You can take a listen to 'The Lightning I, II' by Arcade Fire below. Also, let us know your thoughts on this new release by commenting beneath this article. As always, we love to hear your feedback. So, do you think this is one of the best new releases from Arcade Fire? Also, are you looking forward to their new album, 'We'?
Follow The Playlist Below For More New Music!
Latest posts by Emily Harris
(see all)