Fall Out Boy, 'Heartbreak Feels So Good' – Single Review ★★★★☆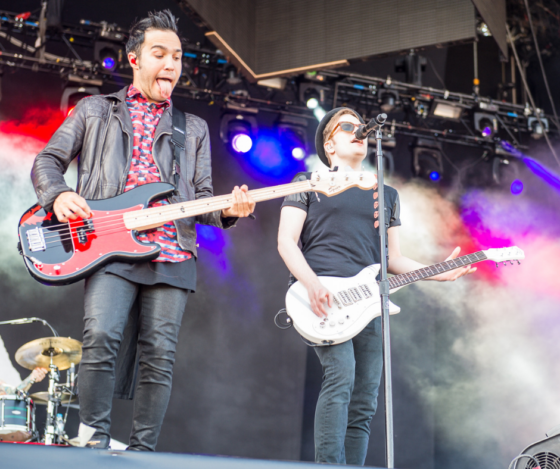 Jump To The Discussion ↓
'Heartbreak Feels So Good' by Fall Out Boy – Single Rating: 4/5 ★★★★☆
It's been over six years since we have heard anything from Fall Out Boy, and they been sorely missed. The latest single 'Heartbreak Feels So Good' is their second from the bands upcoming new LP 'So Much (For) Stardust'. It will be out on the 24th March.
'Heartbreak Feels So Good' plays through and smacks of mid-noughties sounding nostalgia. It will be a comforting sound to fans of the band who have been away too long. The single has the feel of a group going back to their roots and to their best sound. This surely has a lot to do with Fall Out Boy reuniting with producer Neal Avron. He is the man behind the glass for three of the band's albums between 2005 and 2008.
Catchy
'Heartbreak Feels So Good' starts with a synth intro, and from the off Fall Out Boy are sounding vocally familiar, with the song as catchy as always. Guitar power chord led, with two other guitar tracks accompanying, the chorus is anthemic in nature. The 'Oh, Oh, Oh, Oh' chorus hook a particular treat. Fall Out Boy have their sound and style, and on this track, they are quite rightly not deviating away from it.
From the two singles lifted so far from 'So Much (For) Stardust', you can hear that Fall Out Boy have put in the man hours and given this new record a great amount of care and attention into their recordings. Lead singer Patrick Stump said 'We wanted to make a record that was really lovingly crafted and deliberate and patiently guided'.
The popular music landscape has changed so much in the six years that Fall Out Boy have been away. In this day and age, it will be a big ask for 'Heartbreak Feels So Good' to join the band's top ten UK singles. Guitar bands are just not in vogue as much anymore. But the boys are back and sounding as good as ever. That is the main thing.
Be Sure To Follow The Playlist Below For More New Music!
Latest posts by Rob Sapwell
(see all)