The Gaslight Anthem, 'Positive Charge' – Single Review ★★★★☆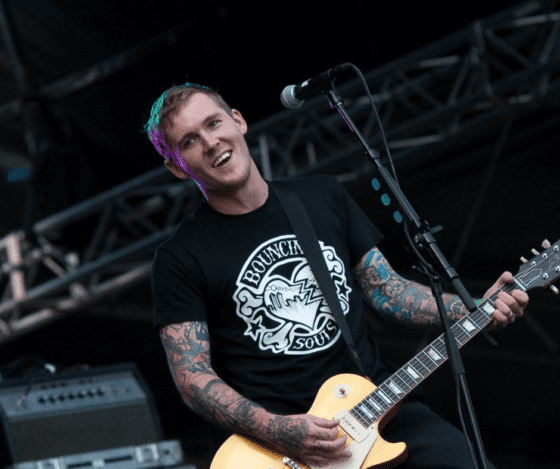 Jump To The Discussion ↓
'Positive Charge' by The Gaslight Anthem – Single Rating: 4/5 ★★★★☆
'How I've missed you, how I've missed you' sings Brian Fallon of The Gaslight Anthem on the New Jersey bands latest single 'Positive Charge'. It's a mammoth nine years since The Gaslight Anthem released any new music. Also, it's the first bit of art they have released since 2014 album 'Get Hurt' that reached number 4 in in the U.S and in the U.K. I think it's fair to say after nearly a decade long hiatus, we have missed you more Brian….
Firstly, the intro of 'Positive Charge' hits you like a ton of bricks. Also, it certainly gets your attention with a thumping drum beat, superbly played distorted lead guitar and subtle piano stabs. Fallon's vocals are an anthemic heady mix of Brandon Flowers, Matthew Ryan, Bruce Springsteen, and Ryan Adams – brilliantly unique. As 'Positive Charge' continues, the track becomes more melodic with some lovely female backing vocals. Also, the outro provides a positive climax with great backing vox all round. The Gaslight Anthem's sound is hard to place, a bit later Kings of Leon and 'Darkness on The Edge of Town era E-Street Band, with a hint of The Killers and U2 thrown in for good measure. They are sounding absolutely superb.
Brian Fallon
Brian Fallon says of their latest release, 'Positive Charge began as a message of joy to ourselves and to our audience. The central theme is about looking at the things you've come through and feeling like you want to go ahead with an open heart toward the future, believing that the best years are not behind any of us and the good we have is worth something'.
'Positive Charge' is a reflective track for sure. But, based on this release The Gaslight Anthem are on a new upwards curve. They have publicly confirmed they are working on album number six. We are pretty sure here at GSGM that will lead to the bands third U.K top ten LP.
How we've missed you Gaslight Anthem.
So, wait no longer! You can take a listen below.
Be Sure To Follow The Playlist Below For More New Music!
Latest posts by Rob Sapwell
(see all)