The brand new single from Zaida, "Serendipity" has hit streaming platforms recently. The Miami based singer-songwriter released her strongly emotive and moving song through M n' N Records, whom she signed a deal with this year.
Written about taking opportunities in love when you see them, the song is very powerful despite the soft emotional subject matter. Throughout, the emotional lyrics are matched with the soft sound of guitar in a unique manner. The sound of the track really takes listeners on a rollercoaster of emotions. Zaida's tones develop from intimate and vulnerable to strong and confident.
This single is definitely one that will resonate with listeners who have experienced similar feelings. "Serendipity" is undoubtedly lyrically heartfelt. Zaida sings the words that will have crossed our minds at one time or another. For instance, lyrics such as "I wonder if you're thinking about me, you're in my head."
As the song builds, energetic drums hit and soaring guitar strikes. Amongst the instruments, the strength and power in Zaida's voice really takes centre stage. Certainly showcasing her passionate and honest songwriting skills, along with her vocal abilities.
About The Artist
Zaida was born and raised in Miami, Florida. She was born into a very artistic family, her Mother being a talented artist, composer, and musician. Significantly, Zaida learned to play the piano with her mother at the age of 12. Sparking her passion for music from there on out. The singer-songwriter's professional musical career really began at the age of 18.
To conclude, if you're a fan of pop-rock music and authentic, heartfelt songwriting, "Serendipity" is one to add to your library.
The new single cements Zaida as an artist to watch out for in 2019. Her truly emotive music will certainly continue to connect with her listeners around the world.
Stream the single today, available on Apple Music, Spotify, SoundCloud and various other platforms.
FREE Magazine Every Saturday!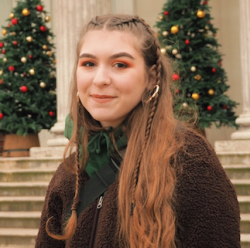 Latest posts by Lauryn Hall
(see all)