Tones And I returns with her single, 'Fly Away'. It is the perfect track for a new week, and I cannot seem to get enough of it this gloomy Monday London morning.
Vocally, Tones And I gets us gripping to her quality once again. Furthermore, she sings with a quality which many will struggle to compare elsewhere. Also, her tone is out of this world with her proving that she is one of the freshest contemporary singers to grace our airwaves in current times.
Distant
Musically, 'Fly Away' takes a more distant approach when aligning it with her previous releases. As a result, it kicks off with the vocals taking the focal position, and the fullness of the instrumental does not arrive until we are well and truly in the midst of the mix. However, we do hear a gentle guitar arrangement which gradually reaches the top. Also, a beat taps away, and it builds the energy up ahead of an almighty chorus with Tones And I giving her all.
As the track progresses, the music stays distant. But, it becomes fuller with the sounds jumping out like a jack in a box in the chorus. Nevertheless, the musical structure steps back once again in the second verse with Tones And I delivering a message which cements itself deep.
Overall, 'Fly Away' is a gem which is undoubtedly going to take the singer to even greater places. Also, I enjoy how it stays condensed, giving the vocals the breathing space they crave. However, is it her best yet? For me, it is certainly up there, and it is challenging to find fault with her powerful performance.
You can take a listen to 'Fly Away' by Tones And I below. Also, be sure to let us know your thoughts to the new release by commenting on our social media accounts. As always, we love to hear your feedback.
---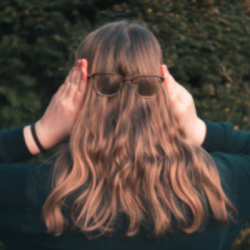 Latest posts by Emily Harris
(see all)