The Hives, 'Bogus Operandi' – Single Review ★★★★☆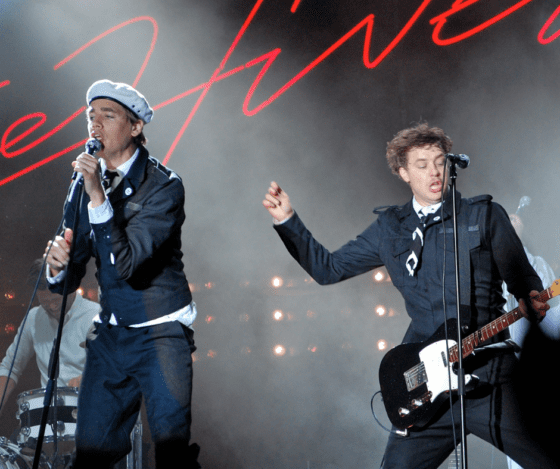 Jump To The Discussion ↓
'Bogus Operandi' by The Hives – Single Rating: 4/5 ★★★★☆
It's been over twenty years since The Hives first burst onto the scene with worldwide hit single 'Hate To Say I Told You So' and platinum selling album 'Your New Favourite Band'. Signed at the time Alan McGee's Poptones label, The Hives looked the part, were different and performed exceptionally live.  2001 was a year that guitar bands were popular. The Strokes, The White Stripes and The Datsuns all were making waves, The Hives would be a big part of that water.
The band's new single 'Bogus Operandi' is rip-roaring return to form, and their first new music since 2012's 'Lex Hives'. It's the first single from their upcoming LP ' The Death Of Randy Fitzsimmons' out on the 11th August.
Hook
'Bogus Operandi' cuts right through you.  A Queens Of The Stone Age- esque intro with throbbing feedback and layered distorted guitars set the tone. The hook of the song is the riff, while frontman Howlin' Pelle Almqvist lead vocals are as good as ever and at times during the song his vocals are isolated which will land really well for any listener. This writer is not a fan of key changes, but it works here on 'Bogus Operandi'. The outro is superb also, with the high-pitched lead guitar a standout part of the track.
A special mention must also go to director Aube Perrie who put together the 'Bogus Operandi' music video. It's 'Evil Dead' inspired theme is hilarious and a brilliant watch.
The Hives have never been a band short of confidence, they always carry a great style (wearing their known for black and white stage outfits), they are an incredibly tight band, ooze charisma, and in terms of a live experience and showmanship, they are one of the best musical acts around. Almqvist states 'We left the throne for a decade. No one sat on it, and so here we are again'.  The Hives are back, long live the kings….
Be Sure To Follow The Playlist Below For More New Music!
Latest posts by George Millington
(see all)