Queens of the Stone Age, 'Emotion Sickness' – Single Review ★★★★☆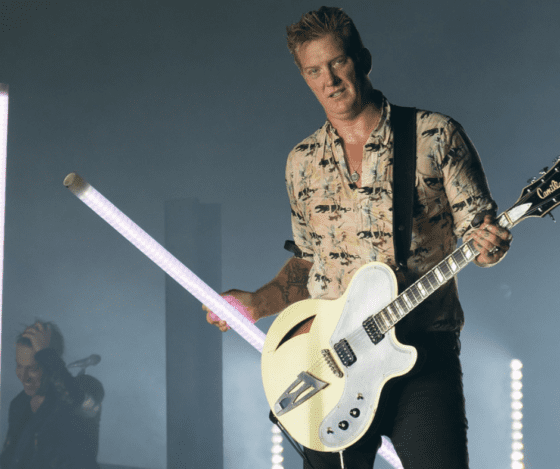 Jump To The Discussion ↓
'Emotion Sickness' by Queens of the Stone Age – Single Rating: 4/5 ★★★★☆
After a five-year hiatus, Queens of the Stone Age have reemerged with a bang, announcing their highly anticipated eighth studio album, 'In Times New Roman,' set to release on June 16. To mark this exciting news, the desert rockers fronted by the talented Joshua Homme have unleashed their first single in half a decade, the captivating, 'Emotion Sickness'.
The song kicks off with the sound of a door opening, symbolizing the band's reentry into the music scene. Josh Homme's voice enters the room. They carry the weight of raw emotion, while the band joins in with a gripping rock stop-start overture. 'Emotion Sickness' takes the listener on a journey into an enigmatic soundscape that both breaks new ground. However it also remains true to Queens of the Stone Age's distinctive sound.
The chorus, with lyrics such as "Don't care for me, Baby don't care for me, Had to let her go, oh, Baby don't care for me," reveals glimpses of frontman Josh Homme's personal life. It hints at his deteriorating relationship with his ex-wife, Brody Dalle. The song's intense energy and heartfelt lyrics capture the essence of a turbulent romance. They also draw the listener deeper into the emotional core of the track.
'Emotion Sickness' showcases Queens of the Stone Age's musical prowess and their ability to evolve while maintaining their signature style. The band effortlessly blends gritty guitar riffs, powerful drum beats, and Homme's distinct vocals, creating a mesmerizing sonic experience that demands attention.
With their triumphant return, Queens of the Stone Age have set high expectations for 'In Times New Roman'. Also, if 'Emotion Sickness' is an indication of the album, we can expect a record that leaves a lasting impact!
You can take a listen below.
Be Sure To Follow The Playlist Below For More New Music!
Latest posts by Emily Harris
(see all)