Kanye West announces that he wants to change his name to 'Christian Jesus Billionaire Kanye West'. Yes, really.
'Ye let this slip at the fifth annual Fast Company Innovation Festival. Which took place this Thursday in New York. The name change may not come as a shock to some, as Kanye is known for his outlandish claims.
The rapper stated "People say it's crass to call yourself a billionaire, but I might legally change my name to Christian Genius Billionaire Kanye West for a year."
Yeezy
The rapper appeared at the event to speak about his fashion company, Yeezy, with the companies head footwear designer Steven Smith. The pair plan to explore alternative methods of production in order to become more ecologically conscious. Secondly, they also announced a new Yeezy sneaker, which will be partly made of an eco-friendly algae fibre.
In addition, Kanye even named Yeezy 'the Apple of apparel'.
2024 Presidential Campaign
Not only did he announce his name change, but he also confirmed he will be running for the position of US President in 2024. President Christian Jesus Billionaire Kanye West – has a ring to it right? Or maybe even First Lady Kim Kardashian West?
Kanye casually said 'When I run for president in 2024…' This statement was met with laughs from the audience. In turn, Kanye responds 'what y'all laughing at?' Yearning for the audience to take his statements seriously, which may have been hard for some.
He spoke of the positives he would bring to the states under presidency, including creating so many more jobs for his people.
Religion
Kanye is as of recent, a born again Christian. Recently releasing his new gospel album 'Jesus is King' and performing gospel music at his Sunday Service events throughout the past year.
So it makes sense to involve 'Christian Jesus' in his new name – right?
To conclude, it is safe to say that Kanye's behaviour and statements remain unpredictable at this point.
What do you think about the rappers name change and possible presidential campaign? Let us know in the comments below.
Receive Weekly Music Updates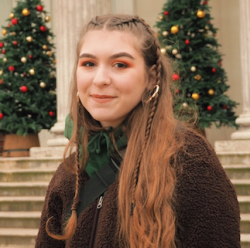 Latest posts by Lauryn Hall
(see all)