It's that time of year again. Christmas. Snow is forecast across the country, the heating is on. But all importantly, the John Lewis Christmas advert has been released. This year, Bastille's frontman Dan Smith is the voice of the John Lewis Christmas Advert.
The cover song this year is of REO Speedwagon's "Can't Fight This Feeling". This power ballad was originally released in the UK in 1984 on the album Wheels Are Turnin'. However, the single release came around the year after. The song spent three consecutive weeks at the top of the charts from March 9 to March 23, 1985.
Dan Smith's incredible voice is heard over a soft piano version of the song. "Can't Fight This Feeling" matches perfectly to the magical story of this years advert.
The advert will not air on live TV until Saturday. However, if you cannot wait until then, you can watch the video online below.
The Story
The adorable advert follows a little girl and her friend Edgar the Excitable Dragon on a festive journey. Poor Excitable Edgar struggles to fight his excitement for Christmas time. Consequently, he sets fire to many things. From a snowman, to the village's entire Christmas decorations – tree and all. However, Edgar works to control his destructive excitement. Finally, Edgar provides the flames for the village Christmas pudding.
Rumours
As a result of the high anticipation of the advert, rumours were abundant. There has been much speculation recently as to who John Lewis & Partners were going to recruit for the all important job of the John Lewis Christmas song. Rumours included Lewis Capaldi, Ed Sheeran and Sam Smith. Notably, Lewis Capaldi came out top on a number of betting websites.
John Lewis' Christmas adverts are without a doubt the most highly-anticipated Christmas advert campaigns year after year. In fact, some individuals have been hopefully anticipating a follow up to John Lewis' 2015 Man On The Moon advert. Which is definitely one of John Lewis' most popular and well-remembered Christmas adverts.
What do you think to this years John Lewis Christmas advert? Let us know in the comments below.
FREE Magazine Every Saturday!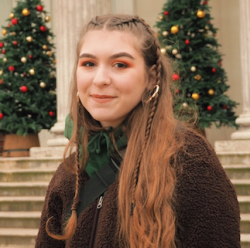 Latest posts by Lauryn Hall
(see all)