Ddendyl Hoyt Interview With Colby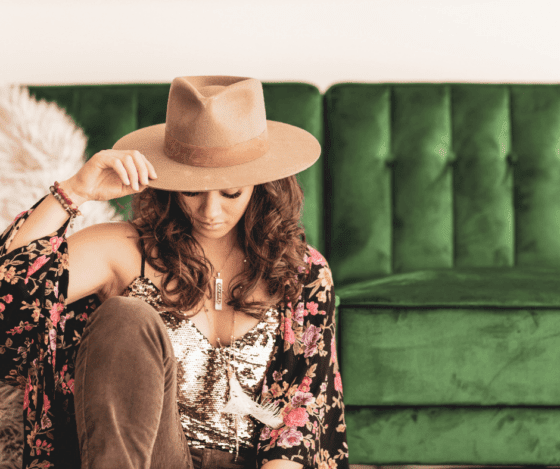 Jump To The Discussion ↓
Although her unique name is remembered first, everything about singer/songwriter Ddendyl Hoyt becomes unforgettable as you hear the little town lady with the enormous voice sing.
Ddendyl began her musical career as a youngster, learning classical violin, opera, and taught herself to play the piano. She was born in South Carolina but raised in rural Western New York. She was inspired by singers like Johnny Cash and Reba McEntire as she grew up listening to Gospel and Country music. Ddendyl's captivating voice and emotional storytelling create an authentic rock, pop, and blues musical combination.
The star stopped by for a chat.
Colby: I cannot get enough of your new single, 'Gonna Need My Love'; it is fearless! What do you enjoy most about the track?
Ddendyl: I love the energy of this song. It is so strong and has so much backbone. It's a little angry, but mostly its brokenness that turns into power. It's about reclaiming all of the emotional stuff you put into a relationship and when it ends often you're just so drained and depleted, this song is the recharge.  When the song was originally written for me I hadn't really experienced a toxic relationship yet, so in our demo, I didn't bring that life experience to the vocal booth. But by the time Shawn heard the tune and asked to produce it I had a few of those relationships under my belt and I was able to bring the energy the song deserved. 
Colby: Your music cleverly fuses a rock edge with pop, and it makes you stand out. Have you always had a deep passion for rock? 
Ddendyl: I've always had a deep passion for music and I take inspiration from many genres, but yes, I fell in love with rock early. I grew up on mostly country and gospel but there are a few albums my Dad had that I listened to every chance I got. Vixen's second album 'Rev It Up' was one of those and I will always remember hearing Metallica's 'The Unforgiven II' for the first time (I know, not their most popular song, but one of my all-time personal favourites) and thinking that song was magic. 
Colby: Breaking Benjamin's guitarist, Keith Wallen wrote the song exclusively for yourself; how did it feel to have a notable name like Keith approach you? 
Ddendyl: I was totally flattered, even more so when he said he was a fan of my voice and he had written a song for me. When I first met Keith, he was transitioning from Adelitas Way into Breaking Benjamin and also working on his first solo EP 'Allies' (we have duet on that project as well). Keith is an incredible songwriter and musician, I was honoured to get to work with him. 
Colby: It is impressive to find that you have shared the stage with some of the worlds most prominent names. Do you think that experience has helped you get to where you are today?
Ddendyl: I think that every part of my journey has had an impact on where I am now. Sharing the stage with national acts is always amazing but the small stages and the seemingly insignificant moments have just as much an impact on my career and where I'm going. Maybe even more. Those big performances are so glamorous but it's the intimate concerts that let me get to know my fans on a real level. It's in those moments of connection that I'm reminded of why I do what I do, and why I love it!
Colby: What does the future hold for yourself? What are your goals for 2021 and beyond? 
Ddendyl: There's too many to write them all 🙂 But I'll share a couple. First up is finishing the album. We have so many great songs that we are excited about, can't wait to share them with you! Next, we'd love to see 'Gonna Need My Love' on the radio, and start touring again. It's been too long. In the meantime though, you can catch me at my weekly residency in Las Vegas at Aria Resort and Casino!
Latest posts by Colby Morrel
(see all)