The Killers, 'Your Side of Town' – Single Review ★★★★☆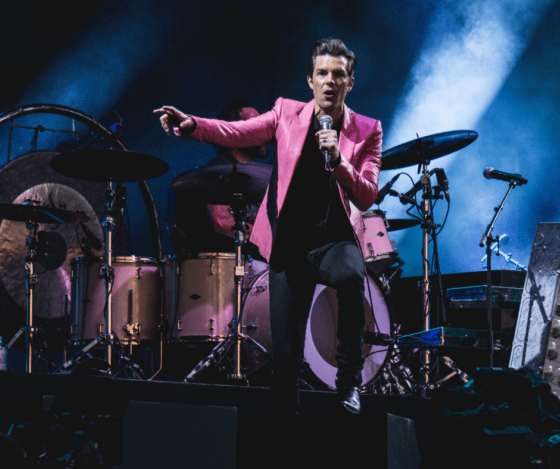 Jump To The Discussion ↓
'Your Side of Town' by The Killers – Single Rating: 4/5 ★★★★☆
The Killers' latest single, 'Your Side of Town', encapsulates the very essence of the band's signature sound. It also infuses a fresh surge of energy that seems to reignite their creative fire. Founded in 2001 in Las Vegas by Brandon Flowers and Dave Keuning, The Killers have consistently managed to captivate audiences with their distinctive style. This new track is no exception.
With its nostalgic 80s vibe reminiscent of synth-pop legends like New Order, 'Your Side of Town' transports listeners back in time while maintaining a modern resonance. The song's lyrics convey a mix of longing and passion, painted with vivid imagery and emotional depth. The opening verse, "If I could put my arms around you / Would you remember how it feels / To bask in the glow of my protection?" sets a yearning tone that runs through the track.
Emotive
Brandon Flowers' vocals are as emotive as ever, delivering the verses with a blend of vulnerability and determination. The chorus, driven by a catchy melody, strikes a perfect balance between melancholy and hope. The lines "I'm hanging on your side of town / I notice when you're not around" underscore the theme of distance and unfulfilled desire.
Stuart Price and Shawn Everett's production also combines the elements of The Killers' distinctive rock sound with the neon hues of synth-pop. The result is a track that feels both timeless and contemporary. Furthermore, it is a bridge between eras that showcases the band's evolution while staying true to their roots.
'Your Side of Town' has all the hallmarks of becoming a standout in The Killers' discography. You can take a to it below. Also, be sure to let us know your thoughts on this fresh release by commenting beneath this article. Are you looking forward to more new releases from the rockers? As always, we love to hear your feedback.
Be Sure To Follow The Playlist Below For More New Music!
Latest posts by Becky Anderson
(see all)