The Goo Goo Dolls, 'Run All Night' – Single Review ★★★★☆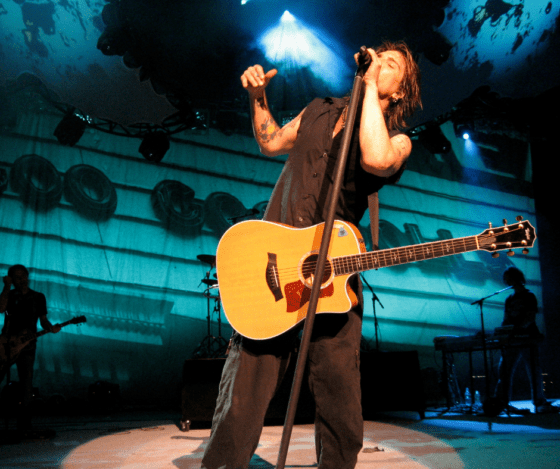 Jump To The Discussion ↓
'Run All Night' by Goo Goo Dolls – Single Rating: 4/5 ★★★★☆
The Goo Goo Dolls return with their first original track since their acclaimed album, Chaos in Bloom in 2022, and they make a powerful statement with their latest single, 'Run All Night'. With introspective lyrics and their signature sound, the band captures the essence of hope and escaping from challenging circumstances.
'Run All Night' begins with a haunting piano overture that immediately piques our curiosity. Also, the delicate keys create an emotional atmosphere, setting the stage for frontman John Rzeznik's poignant vocal delivery. Rzeznik's voice is as powerful as ever, carrying a sense of urgency and determination.
As the track progresses, it builds up to an impactful chorus that hits with full force. The drums strike with bite, providing a solid foundation for the captivating vocal harmonies that soar above. Also, the Goo Goo Dolls have always had a knack for crafting melodies that stick with you, and the refrain on 'Run All Night' is no exception. Moreover, the chorus is a satisfying blend of ear-pleasing harmonies and an acoustic guitar rhythm that carries the band's trademark sound.
Meaning
Lyrically, 'Run All Night' resonates with its message of not letting dreams die young and not allowing the heart to go numb. Additionally, it speaks to the human desire for freedom and the search for hope in the unknown. Frontman John Rzeznik perfectly captures these sentiments, conveying a sense of longing and determination in his delivery.
The Goo Goo Dolls have always excelled at creating emotionally charged songs, and 'Run All Night' is a testament to their ability to move their fans. The track is a seamless blend of introspective lyrics, heartfelt vocals, and the band's knack for crafting memorable melodies.
So, wait no longer! You can take a listen to 'Run All Night' by Goo Goo Dolls below. Also, be sure to let us know your thoughts to this new release by commenting beneath this article. As always, we love to hear your feedback.
Be Sure To Follow The Playlist Below For More New Music!
Latest posts by Emily Harris
(see all)