The Coral, 'Sea Of Mirrors' – Album Review ★★★★☆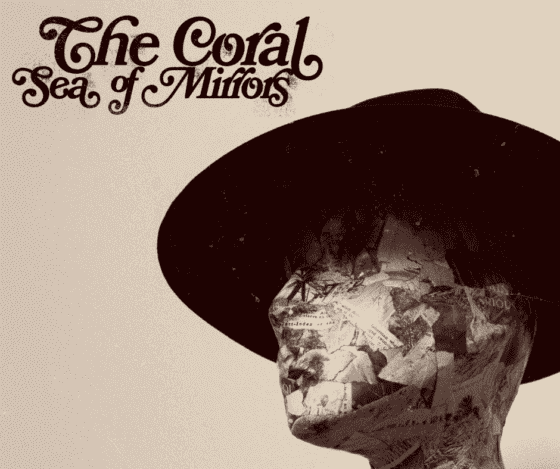 Photo Credit: The Coral
Jump To The Discussion ↓
'Sea Of Mirrors' by The Coral – Album Rating: 4/5 ★★★★☆
The Coral, the illustrious English band hailing from the Wirral Peninsula, return with their latest album, 'Sea of Mirrors'. In this ambitious release, the band delves headfirst into the realm of conceptual artistry. Also, they craft a musical journey intertwined with their fascination for 60s and 70s Western cinema, baroque pop, and iconic influences like Love, Scott Walker, Sergio Leone, Lee Hazlewood, and Ennio Morricone. Featuring captivating string arrangements by Sean O'Hagan of the High Llamas and a mesmerizing cameo from none other than Cillian Murphy, 'Sea of Mirrors' stands as a sprawling successor to their 2021 masterpiece, 'Coral Island'.
The album's roots lay in the creative storm that followed 'Coral Island'. Moreover, it inspired the band to conceptualize two albums, with 'Sea of Mirrors' being the first in line. Keyboardist Nick Power's script and drummer Ian Skelly's vintage cinema foyer poster artwork set the stage for this vivid conceptual journey. It pushes The Coral beyond all expectations.
Lush
'Sea of Mirrors' opens with 'The Actor and the Cardboard Cowboy'. Moreover, it is a gentle, calming introduction that invites listeners to embark on this cinematic odyssey. Also, the album masterfully blends heartfelt guitar tones, lush string arrangements, and the band's distinctive vocals. As it progresses, it takes all on a voyage that evolves from the tranquil 'Cycles of the Seasons' to the spirited 'Wild Bird'.
The title track, 'Sea of Mirrors', encapsulates the album's essence, weaving together elements of Western cinema soundtracks with modern flair. Each track, from the soulful 'Eleanor' to the ethereal 'Dream River', offers a unique glimpse into The Coral's sonic vision.
Throughout the album, The Coral's ability to meld their signature sound with fresh, contemporary elements is evident. It's as though they've created the soundtrack for an Italian Western directed by Fellini, scripted by Richard Yates, and produced by Lee Hazlewood. Also, while channeling the spirit of Townes Van Zandt.
You can check it out below.
Be Sure To Follow The Playlist Below For More New Music!
Latest posts by Emily Harris
(see all)