Hailing from Croxteth, Liverpool and at just 22, artist Joe Slater delivers a smooth, saturating blend of rock, blues and soul that is anchored in a kind of luminosity of spirit that shines through, song after song.
Drawing inspiration from The Beatles, The Boss and Oasis, Joe's song writing and unique vocals will take listeners on such a fiercely personal journey through energetic tracks coupled with anthemic ballads, full of interior and reflective moments, that only the greats could inspire.
Joe states that, "It's not about the past, it's all about the future. Real music is about passion and feeling.  I want people to feel my music."
2018 has already been a successful year for the young singer-songwriter and it looks like he's just getting warmed up. Joe has performed at such prestigious events as The Ned first anniversary, the opening of Soho House White City, The Hard Rock Café Stage at The Isle of Wight Festival, The Cornbury Festival, and The View From The Shard.  Plus, many more dates are soon to be announced.
And, going from strength to strength, Joe began working on his new EP by taking to the studio in July with Grammy Award winning producer Kipper at the world-famous State Of The Ark studios (for which the EP is named after) to record arguably one of the most anticipated independent releases of 2018.  Being joined in recording by a live band that have individually toured alongside music royalty such as Paul McCartney, Adele and Grace Jones. This forthcoming EP captures the weighty and somewhat vulnerable nature of Joe's songwriting, that will find a home with listeners of any age.
Joe's poetic temperament and touchstone qualities as a songwriter and performer come through effortlessly in the first single to be released off the new EP, 'Lady'.  It is an emotive, heartfelt homage and something nearing a love-letter to his guitar that brings him his wage. Furrowed and finding footing in the raspy tones of Joe's soulful voice, the song becomes a backhanded way to say thank you to the First Lady in his life.  There are plenty of gritty guitar riffs mingled in the groove of the base line that Joe owns completely.  The song drives and transports you to place where the obsession and attachment lies only for Joe's 'Lady'.  This artist is on solid upward arc and one to be watched!
You can pre-save and pre-order the upcoming single here. 
Be sure to keep up with Joe and follow him on Twitter here.
FREE Magazine Every Saturday!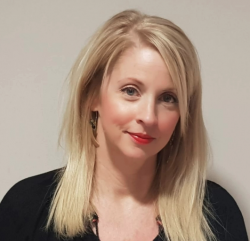 Latest posts by Dana Miller
(see all)