Finland's most successful indie band ever are back with their fifth, and final, album. Satellite Stories have had quite the career, over 60 million streams, 300 headline shows and five big albums. Cut Out The Lights is seemingly their last hurrah, is it one worthy of a band with such a noted past?
The album opens with 'Green River', a track that really sets the scene for what's to come. Big, bright, energetic, guitar pop. The whole album opens up with samples stating, 'Only crazy people are around today' 'That's why I want to stay'. It's a strange and sweet opener to their farewell record, it's a well calculated and thought out manner to welcome people back into the world of Satellite Stories one last time.
The already released 'Coupons' is one of the standout tracks of the record, it's one of the highest energy tracks, it's vibrant, fun and a flat-out banger. Everything and everyone gets their time to shine in 'Coupons', the vocals are bloody brilliant, and the guitar is absolutely incredible. That's one thing I noticed throughout the whole album, the guitar riffs and solos are beyond amazing, they're addictive and I wish for them to never end. I can only describe their use of guitar to be like an angelic version of Royal Blood. It's fast paced, high octane, but surprisingly light to listen to.
Other standout tracks include 'Wild Wind', with a catchy chorus and some of the best instrumentals on the album, as well as 'No Adagio', which provides a bit of a change of pace in the last third of the album, it boasts the same energy levels, but the mix up in instruments makes this a refreshing track. Cut Out The Lights ends with 'Alone in El Dorado', an interesting title for a swan song for sure, it's a grand track to end on. 'Don't tell me it was only roses along the way' is a truthful look back on the song's focus and their career.
The album is largely without faults, at 10 tracks long, it lacks filler, each track does what it means to do and it's a massively enjoyable record to listen to. My only, slight, complaint would be that some of the tracks sound a bit 'samey', however, all of them are individual, fantastic tracks. So why fix what isn't broken?  Fans of Two Door Cinema Club, Everything Everything and Last Dinosaurs are sure to find themselves glued to Cut Out The Lights, the electric, shimmering pop/indie fusion they create is reminiscent of these bands, but it's truly unique.
"It is all on us again now, which is a position we love, the challenge is immense, we have put everything into this record, a full year in the making." says lead guitarist Marko Heikkinen.
Frontman Esa Mankinen continues; "On this album we went back to the basics of how we made music from the start, the four of us locked away in the Nordic landscape for inspiration, with a focus on the melodies and what production brings the best to the songs."
 It's safe to say their immense hard work paid off. What a high note for the lads of Satellite Stories to end their career as a band on. It's a damn shame we won't be hearing any more of Satellite Stories, however maybe this new album will be a gateway for their back catalogue, and their legacy as indie royalty will live on.
Satellite Stories will be on a farewell tour this Autumn, with one date in the UK:
Monday 15 October 2018 – The Lexington, London
Photo credit: Michael Mac
@SatelliteStory
Words by: David Thomas
FREE Magazine Every Saturday!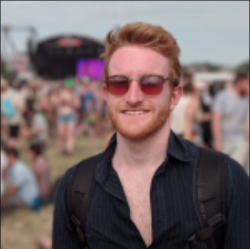 Latest posts by David Thomas
(see all)