This year Ramy Adly captures in his "Solo" album release the classics of the Romantic era. Covering Guitar classics from the early 1800's music: Malagueña, Capricho árabe by Tárrega, Asturias by Isaac Albeniz and many more on his Oud (Guitar-like Middle Eastern musical instrument).
"One of the important factors on my mind while recording Solo, was to represent different colours through one little instrument of a 19-centimetre fingerboard." Ramy goes on to say, "How far can we create a better life out of this big world that we live in?"
Adly continues to expand the possibilities of his instrument. "I want to bring the oud to the same level as the guitar culturally, the instrument that's everywhere and can do everything," he exclaims.
Ramy will embark on a nation-wide tour sharing his new songs from Solo, along with other album favourites found in "Mirage," and his single release covering "Stairway to Heaven."
Listen to album "SOLO" here
Listen to Stairway to Heaven – Oud cover
FREE Magazine Every Saturday!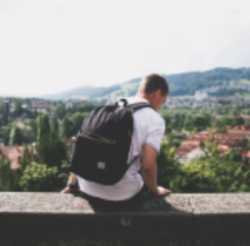 Latest posts by George Millington
(see all)