The release of 'Same Page' follows the success of recent singles "Gloria" and "Wasted Melody". While RADARS' first two singles were self-released on a modest unsigned budget, they surpassed combined streams of over 5,000 in two short months. Thought-provoking, unapologetic and understated lyrics from singer Jack make 'Same Page' a defiant anthem to inspire the listener to "stand up and be counted". The colourful instrumentals originated from a bedroom jam session between guitarists Dave and Sam before the full arrangement with bassist Calvin and drummer Joe transformed the original ideas into a foot-tapping spectacle ready for the stage.
A collaboration with the reputable team of producer Barrington Mole (published by Warner Chappell), engineer Tom Carter (Whitemoor, I Set the See on Fire) fleshed out 'Same Page' during an intense studio session in Belper in early March 2020. Mastering by Pete Maher (Snow Patrol, The Killers, Katy Perry) fine-tuned the song into an example of the memorable dance indie sound that RADARS are capable of. Notable moments are the haunting pre-chorus vocals of "Are you in or are you out?" and "Give me a sign you're on your way?" which echo over the twinkling, duelling guitar riffs, and the bouncing bass line in the verses which could fill any dance floor. It's been an eclectic journey through various line-ups and developments that have helped RADARS hone in, develop and ultimately create their unique sound. The dance indie instrumentals show influence from bands such as Foals, Two Door Cinema Club, while Jack's growling yet controlled vocals would not sound out of place on a Kings of Leon or Mumford and Sons record. 'Same Page' is a song which the majority of listeners can relate to while bearing a brand-new unique sound.

Still, as a band less than 1-year-old, they have already found a successful formula in which they have released three singles and built a loyal fan base averaging 1,500 monthly streams on Spotify alone. The band has already shown that they can write songs which are relatable for listeners, with the excitement for a Saturday night out referenced with their catchy debut single 'Wasted Melody'. This was quickly followed up just one month later with their most successful single 'Gloria'. Although less playful, it's a track that addresses issues such as infidelity and a lack of self-worth. With these singles, the band manage to show off their knack for finding an earworm that sticks with you long after the first listen.
Over the past decade, indie-rock on a commercial level has been fast-paced, melody-rich, and often fun in nature. 'Same Page' has these elements but with a stripped back element of soul which is unforgettable. Out of some difficult personal experiences, the band has fashioned a thoughtful, popping debut record – a blue-chip British single which can sit proudly on an underground stage next to the likes of Idles, The Blinders, The Larkins, Mystery Jets and The Vaccines. In mood, if not exactly in sound, it has some of the complete realisation of early Bloc Party or The Sunshine Underground.
Now poised to join the indie revival alongside their current contemporary peers, RADARS' energy, positivity and drive were never going to allow them to settle for anything other than being on the 'Same Page'. In 2020 watch RADARS sing from the same hymn sheet and keep reaching higher still.
FREE Magazine Every Saturday!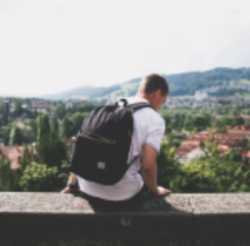 Latest posts by George Millington
(see all)