UK based Ambient Sonic Artist, nSanders, has released his brand new evocative single, 'Synergy of Seven', lifted from the highly anticipated new album of a similar name,  'Synergy' and it is everything you would expect from such a creative and established artist
The music of nSanders is like nothing else, combining stunning ambient soundscapes with a gorgeous elemental combination of progressive rock and electronica. He has been composing music from a very early age, seamlessly and gaining proficiency playing piano, synths, guitar, drums and percussion. Describing his unique sound nSanders states that, 'I try to express my inner most emotions and thoughts through painting with sound. This in turn creates ambient textures with a sense of fore and background.'  And, it is clear he has hit the mark and is excelling in the artistry of sound, laying his canvas of texture as he says through the medium of sound carefully and expressively for all to admire and enjoy.
nSanders is already a well established artist, with a solidified creativity that at  once is obvious and enviable.  Having attained a number 1 spot in the National Ambient Charts and holding a top 10 position for over two months under his previous name of nss58. It comes as no surprise then, that 'Synergy of Seven' is nothing short of excellence and demonstrates pure mastery.  There is a driving motion with an immediacy to it all wrapped in an epic luminosity and a sense of something magical. Combining the flavours of dreamy and ambient music, punchy drums and piano melodies, it is truly unique and something to behold. With this release, nSanders has increased anticipation for his new album 'Synergy', due to be released later this year.
FREE Magazine Every Saturday!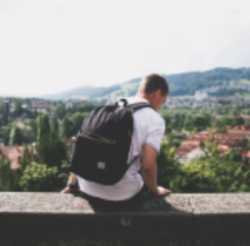 Latest posts by George Millington
(see all)