Following the release of her new single, 'Don't Leave Me', Scottish singer and multi-instrumentalist MALKA has shared a thought-provoking opinion piece on being an independent artist in an era of streaming over album sales.
Detailing the low income made from Spotify streams, the article goes on to muse on the priorities of independent artists when the accepted methods of promoting music aren't profitable or effective; and how a success in the world of streaming doesn't necessarily translate to the rest of the industry. You can read the full guest blog on The Digital Fix here.
MALKA's latest single 'Don't Leave Me' is the first taste of new music since the release of her critically acclaimed experimental alt-pop album Ratatatat last year. The new single finds her on a different tip as she returns as an ever forward-thinking figure in Scottish music.
On 'Don't Leave Me' MALKA develops her sound even further with a new-found palette of dream-pop and notes of folk-inspired guitars, which are all brought together amongst captivating percussive rhythms. The result is reminiscent of the likes of Sylvan Esso, Oh Wonder and Daughter.
Speaking about the new release MALKA says, "I have started writing my new album and this new single 'Don't Leave Me' marks a change in direction for my music and for the forthcoming record. I recorded this in the studio with Paul Savage (Mogwai, Belle and Sebastian, Delgados) at Chem19 in Glasgow.
I have played all the instruments on the song myself again – but this time I have gone back to some of my acoustic roots – perhaps a hint of nostalgia has crept into my music since I have returned home, I have picked up a lot of my old instruments again. The song is about that desperate feeling of loss that you can have when someone leaves you, whether through death or from them moving on from your relationship."
'Don't Leave Me' marks the start of an exciting new chapter for MALKA and sees her broadening her sound as she delivers her most enticing record yet.
MALKA will be celebrating the release of the single with three headline shows in November. She will play London's Servant Jazz Quarters on November 13th, which will be followed by two Scottish shows including Sneaky Pete's in Edinburgh on November 23rd and Glasgow's Hug & Pint on November 24th.
MALKA NOVEMBER HEADLINE TOUR DATES
23rd – Edinburgh, Sneaky Pete's
24th – Glasgow, Hug & Pint
FREE Magazine Every Saturday!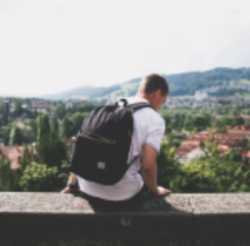 Latest posts by George Millington
(see all)