Live at Leeds – Get Set For A Spectacular One-Day Festival with Eclectic Lineup of Artists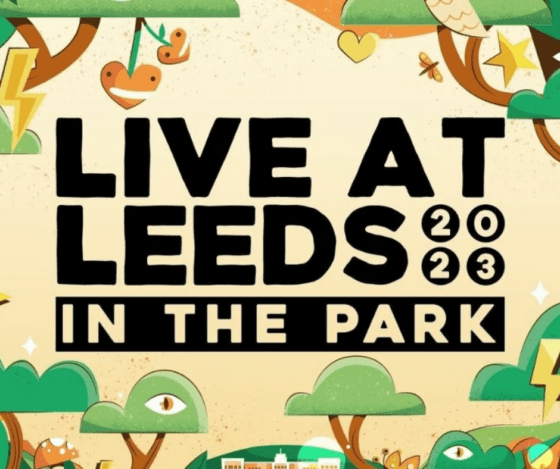 Photo Credit: Live At Leeds
Jump To The Discussion ↓
Leeds is set to come alive with the pulsating beats and electrifying performances of the highly anticipated Live at Leeds: In The Park 2023 festival. Taking place at the historic Temple Newsam house and rare breed Home farm, this multi-stage, greenfield extravaganza promises a day filled with sensational music, captivating performances, and an unforgettable experience.
With a lineup that boasts some of the most talented artists of our time, Live at Leeds is set to captivate audiences on Saturday, May 27, starting from 12pm. This year's festival will feature performances from renowned acts such as Two Door Cinema Club, The Big Moon, and Everything Everything, along with a host of other phenomenal talents.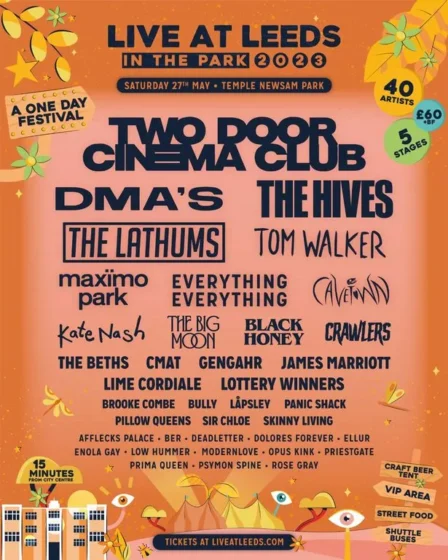 Live at Leeds has gained a reputation for being a launching pad for up-and-coming musicians, and this year's edition continues that tradition. The festival has played a pivotal role in the careers of global superstars like Ed Sheeran, Stormzy, The 1975, Lizzo, Sam Fender, Royal Blood, Sam Smith, and Tom Grennan. With 40 diverse artists scheduled to perform, including Kate Nash, Two Door Cinema Club, and Tom Walker, attendees can expect an exhilarating blend of genres and styles that will leave them craving more.
The festival grounds will feature five stages, each with its own unique vibe and atmosphere. The Cockpit, Rolling Stone, DIY Stage, and Dork left and right stage will play host to the mesmerizing performances, ensuring that there is something for everyone's musical taste.
Tickets for Live at Leeds
Tickets are available for purchase on the official Live at Leeds website. Early bird tickets have already sold out, but general admission tickets are still up for grabs at £66 per person. For those seeking a truly VIP experience, VIP tickets are available for £93.50 per person, providing exclusive perks such as VIP entry, access to the guest area, luxury toilets, and a dedicated guest bar.
Live at Leeds Line Up
The main stage – Cockpit
1pm until 1.30pm – Skinny Living
1.55pm until 2.55pm – Lottery Winners
2.50pm until 3.20pm – Black Honey
3.45pm until 4.30pm – Kate Nash
5pm until 5.45pm – Tom Walker
6.15pm until 7.05pm – The Lathums
7.35pm until 8.35pm – DMA's
9.20pm until 10.45pm -Two Door Cinema Club
Big Top – Rolling Stone
12.30pm until 1pm – Pillow Queens
1.20pm until 1.50pm – Genghar
2.10pm until 2.40pm – Lime Cordiale
3pm until 3.45pm – The Beths
4.15pm until 5pm – The Big Moon
5.30pm until 6.20pm – Everything Everything
6.50pm until 7.45pm – Maximo Park
8.15pm until 9.15pm – The Hives
DIY stage
12.40pm until 1.10pm – Ellur
1.30pm until 2pm – Ber
2.20pm until 2.50pm – James Marriott
3.10pm until 3.40pm – Bully
4pm until 4.30pm – Sir Chloe
5pm until 5.30pm – Lapsley
6pm until 6.40pm – Cmat
7.10pm until 7.50pm – Crawlers
8.20pm until 9.20pm – Capetown
Left stage – Dork
12.35pm until 1.05pm – Opus Kink
1.45pm until 2.15pm – Youth Sector
2.55pm until 3.25pm – Kingfishr
4.05pm until 4.35pm – Deadletter
5.15pm until 5.45pm – Prima Queen
6.25pm until 6.55pm – Rose Gray
7.35pm until 8.05pm – Enola Gay
8.45pm until 9.15pm – Brooke Combe
Latest posts by George Millington
(see all)