DID YOU KNOW? Bruno Mars comes from a family of musicians. His mother was a singer and dancer and his father performed Little Richard rock and roll music. Also his brother is the drummer in Mars' band, The Hooligans.
Peter Gene Hernandez, known professionally as Bruno Mars, is an American singer-songwriter, record producer and multi-instrumentalist. Born and raised in Honolulu, Hawaii, Mars began making music at a young age and performed in various music venues throughout his childhood and was nicknamed "Bruno" by his father because of his resemblance to professional wrestler, Bruno Sammartino. Mars performed songs by artists such as Michael Jackson, The Isley Brothers and The Temptations, Elvis Presley and these early influencers for Mars had a major impact on his musical evolution and performing techniques. In 2003, at age 17 and shortly after graduating from high school, Mars moved to Los Angeles, California to pursue a music career.
Shortly after this move, in 2004 he was signed to Motown Records but this went nowhere for him so was dropped by the label less and a year later. He stayed in LA and managed to land himself a music publishing deal Steve Lindsey and Cameron Strong at Westside Independent. It was during this time that Lindsey shopped Mars the ins and outs of writing pop music and acted as a mentor for the young artist by helping him hone in on his craft. In 2006, Mars was introduced to his future A&R manager at Atlantic Records, Aaron Bay-Schuck and after hearing him play a few songs he was eager to sign Mars but it did not actually happen until three years later as the label felt Mars needed time to develop as an artist. Also as he was an acknowledged music producer he continued to produce songs for other artists such as Alexandra Burke, Travies McCoy, Adam Levine et al.
After serving serving on B.o.B's single "Nothin on you" and Travie McCoy's "Billionaire", which both peaked within the top ten, worldwide, Mars released "Just the Way You Are" on 19th July 2010. The song was the lead angle from his debut album, "Doo-Wops & Hooligans" and reached number one on the Billboard Hot 100, as well as several other charts worldwide. In fact, this song holds the record as the longest-reigning debut format hit, spending twenty weeks at the the top of the 'Adult Contemporary Charts' in US. Since 2010 Bruno Mars has gone on to win many awards and nominations, including five Grammy Awards, three brit Awards, one Guiness World Record and was named one of Time Magazine's 100 most influential people in 2011. In December 2013, he ranked number one on the Forbes 30 under 30 list. In 2014 the song "Uptown Funk" by Mark Ronson featuring Bruno Mars was a commercial success worldwide and later that year was named as number thirteen on the 2014 list of The Words Most Powerful Celebrities with estimated earnings of $60 million. To date , he has sold over 130 million records worldwide making him one of the best-selling artists of all time.
Article by Candice Eastman. 
Receive Weekly Music Updates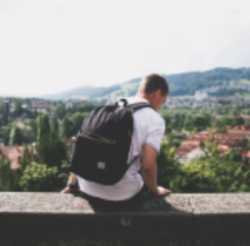 Latest posts by George Millington
(see all)