BRIT Awards 2021 – As It Happened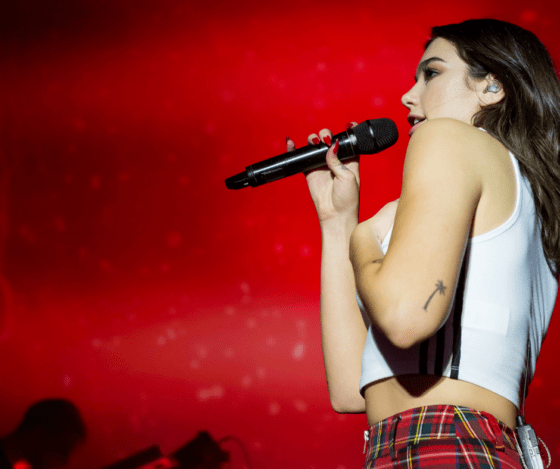 Jump To The Discussion ↓
BRIT Awards 2021 had the nation tuned in once again when it returned for the 41st time at the O2 in London, with Jack Whitehall taking command for the fourth consecutive year.
This year though, the BRIT Awards looked somewhat different due to COVID-19 with the tables all spread out for social distancing, barely any half supped beer bottles stacked up on the tables and an attendance of 4,000 workers and NHS staff. However, the key workers looked to be having a fabulous time with their wine glasses in hand. Still, we all accept that they deserve it! If anyone deserves to get a bit wobbly on Brits night, it's them.
The show kicked off with Jack on an unsurprising zoom call with Line Of Duty stars Martin Compston and Vicky McClure. However, many viewers were not following the narrative. Instead, they were more astonished to figure out that Martin actually has a Scottish accent. Nevertheless, giving us all that we wanted, he often flipped in and out of his Steve Arnott character, either that, or he is a bold fella in real life?
Coldplay got the music underway in conventional Coldplay fashion with a magnificent performance of 'Higher Power'. Quintessential of Coldplay, they do not do anything without maximum effect. They performed on a barge on the River Thames next to the O2 with fireworks discharging while also showcasing impressive visuals.
They soon took us back down to earth; Dua Lipa was then seen walking down the stairs into Charing Cross station before miraculously appearing on stage at the O2; how did she do that so quickly? Magic! She performed 'Physical' with her and the dancers, getting rather suggestive with twerking motion.
Now time for the Brit Awards honours!
Breakthrough Artist
20-year-old Arlo Parks wins breakthrough artist. The singer who resides in London has been taking the industry by storm over the last year. Although it is fair to say that most people were unsure who she was despite her smashing it recently with hit releases, 'Eugene' and 'Hope".
British Group
Little Mix won the best British group presented by Adam Lambert, making them the first female group to win this category. No shock there, though, given their incredible last few years at the top of the game.
Olivia Rodrigo then performs 'Driver's Licence' with a piano and a harp player; but, the sound guy must have forgotten to switch on the harp players input. Furthermore, the harp only became discernible in the closing segment of the performance. Either way, the version was stupefying from the American hitmaker!
Best Male Solo Artist
J Hus had his award collected by some random fella in an orange hoodie? Anyone know he is? He claimed that he wanted to take his time to ensure he did not become an internet meme, but his biggest mistake was declaring that. Furthermore, within seconds the social media realms had made him a meme. 
Arlo Parks (Winner of Breakthrough Artist) then performed her stand out single, 'Hope' with a colourful backdrop covered in flowers and a radiant sunbeam that lit up the stage.
International Female Solo Artist
Billie Eilish wins the international female solo artist award and sends a recorded message from home.
Female Solo Artist
Dua Lipa wins; she dedicates her speech to NHS staff, pointing the finger at Boris Johnson and requesting a fair pair rise for the NHS.
After several awards had been given out, Olly Alexander from Years And Years took to the stage with Sir Elton John to perform 'Its A Sin'. It started pretty serenely before becoming electrified and colossal as it progressed.
The Weeknd then greeted us all to a pre-recorded live version of 'Save Your Tears'. He rocks up in a raincoat with a thunderous backdrop that flashes to the beat of the music.
International Male Solo Artist
This was a tricky one to guess, given the number of stars in the category. Still, The Weeknd grabs the award, and he is presented his BRIT virtually by former first lady, Michelle Obama.
International Group
HAIM snatch the award; given that they had been nominated 3 times previously, many will agree that they deserved to clinch it this time round.
Rising Star
Then came a performance from Griff, who picked up the Rising Star Award; she delivered a red-hot performance of 'Black Hole'.
Best British Single
Boy George then rose to the stage to present the Best British Single. Harry Styles won with 'Watermelon Sugar', and he speaks with a slight American twang thanking everybody for his award.
Following, Jack Whitehall pokes fun at Little Mix. Here he asks how they have been keeping busy in lockdown (a joke intended for Perrie and Leigh-Anne, who have recently announced pregnancy). Also, Jack added even more controversy, wondering if Swifty will hand her little Brit award to Kanye if she wins. Anyone unsure about the tiny half-pint sized award given to each winner; it is another award for them to give to someone they believe deserves it.
ITV then mute Jack's microphone? It appears that he made fun of the folk in the boxes around the arena with ITV subtitles stating that he said something along the lines of 'Corporate W**kers', ey Jack, behave!
Global Icon
Maisie Williams from Game Of Thrones then presented the award for Global Icon. She bestowed the honour to Taylor Swift; who had been barely picked up if at all on the night by the cameras despite being in attendance. Swifty devoted her speech to pandemic heroes and those who have supported her over the last 15 years.
British Album
Lewis Capaldi then emerged and announced the best album. Despite his teasing which went down well, he also received a boo from the spectators after hoping for Scotland to win at Euro 2021 football tournament. The champion for the MasterCard album was Dua lipa with 'Future Nostalgia'. However, this was not a shock to anyone who keeps an eye on Spotify stats, given that she was the most-streamed artist last year by any female artist on Spotify.
The night concluded with Pink, Rag N Bone Man and the Lewisham and Greenwich NHS choir who emotionally performed 'Anywhere Away From Here'.
So, that's it for another Brit Awards, let's hope next year will look a little more familiar!
Latest posts by George Millington
(see all)