US based singing sensation, B.U.d, has just released his brand new single 'No More', a smooth R&B track that's sure to impress music fans worldwide with its universal appeal.
B.U.d's musical roots began when he was just 10 years old, singing under tutelage of his mother, the late great gospel singer, Liza B Morries. His father was a founding member of gospel group "The Heavenly Band." With a deep background in theatre and the arts, he has been breaking down racial barriers on his way to the top, becoming the first African American male to star in the Huntington Beach Playhouse Theatre Company in 2016 as a lead in "All Shook Up". B.U.d is now furthering his music career by composing for clients and releasing music as an independent artist, with an EP due late 2019.
His latest release, 'No More', is a superb demonstration of his velvet smooth and emotive singing voice. It can easily be understood why he is hailed as the King of R&B/Rock and Soul. He delivers his expertly crafted lyrics with a real session of passion and authenticity. After one listen, everyone will agree that he possess one of the great singing voices of our time. With it's chilled out, but gripping production, 'No More' has a real sense of R&B nostalgia, with a modern twist.
If you love R&B, or music general, you won't want to miss out on this release. B.U.d's 'No More' is set to take over playlists as we round-up 2019.
FREE Magazine Every Saturday!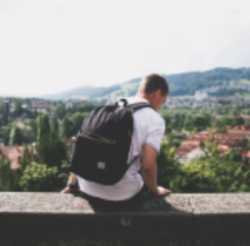 Latest posts by George Millington
(see all)