Au/Ra is an outsider made mainstream with her eclectic pop styles she's Billie Eilish meets Bowie meets the Inception soundtrack. The Line of Best Fit have described her as 'One of the year's most sought-after voices in dance and pop music'. The alt-pop star is back with her latest release 'Assassin'.
'Assassin' is a bass heavy, dark track with an array of melodies. It's an intoxicating and evocative track, with introspective lyrics focusing on feelings of wanting to destroy yourself. On the track, Au/Ra says "Assassin, in my mind, is about self-destruction. I have moments where I freak out and think I make the wrong decision, kill an opportunity, or let anxiety control me, and I want people to know that it's normal to feel that way sometimes – whether you're growing up or adulting. The feeling of knowing you're being self-destructive sucks, especially when you're in the moment and don't know how to break out of the pattern, but I think it's important to be able to identify the problem so you can work on fixing it."
Au/Ra- The Voice of Gen Z
Au/Ra is crying out in dark tones and beams in experimental manners that don't fit the traditional aesthetic. But, her distinctively modern and invigorating sound is truly art. Sure, it's a little bit overly edgy at times, but it's working.
Her voice has a sultry, Dua Lipa-esque element. And she finds her inspirations in escapism, in Studio Ghibli and Miyazaki films. 'I see my music in my head as anime,' she says. 'The world of those movies, they're so different, and the characters have so many random traits that make them weird in a unique way.' Assassin really fits this, it's a war cry of an unhappy youth, someone, a generation, who is ready and needs change.
Au/Ra, alongside young artists like Billie Eilish, has become the voice of a generation. A generation soured by the media, the Government and their elders. A generation that has been born into the world being a bit of a hot mess. Now they come of age whilst political tensions are firing all over the world. She's not only creating a place for misfits to call home, but she's creating a safe space for all feeling disillusion in modern times. Au/Ra isn't what pop wants to be, but she's what pop music may need to be in dark times.
Follow Au/Ra on Twitter.
Receive Weekly Music Updates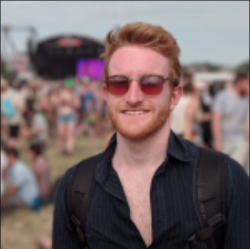 Latest posts by David Thomas
(see all)