From Ashes to New have released their new music video for 'Broken', the follow-up single to their hit 'Crazy', which recently reached #2 on the U.S. Rock Radio chart. The track conveys a message of perseverance and believing in yourself when others try to push you down and hold you back in life which we all could use a little of frankly. It's a recurring theme in their music which is very personal to the band and hits out to a lot of listeners actually.
Their debut album Day One earned the band a Top 10 track at Rock Radio with the single 'Through It All'. Following an extensive album cycle, the band's original drummer and co-vocalist both abruptly left the band. Rather than focusing on the setbacks, From Ashes to New forged ahead with a new energy and purpose.
The band, now comprised of frontman/rapper/programmer Matt Brandyberry, guitarist Lance Dowdle, vocalist Danny Case, and drummer Mat Madiro (Trivium) released their second album, The Future earlier this year, via Eleven Seven Music.
Lead singer Matt relates what is the baseline for their music, "We are only regular if we make ourselves regular. We are what we tell ourselves we are…Some of our fans tell us they feel things are hopeless and I tell them, 'You have to believe in yourself before anyone else can.'"  
The band is touring the U.S. extensively for the rest of the year, with a headline run throughout September and October and are working on plans for a European tour in early 2019.
In addition to their U.S. headline tour, they will be opening for Five Finger Death Punch and Breaking Benjamin on their autumn arena tour and will also be performing at several festivals, as well as providing direct support for Stone Sour and Papa Roach on select dates.
Follow From Ashes To New:
Website: http://fromashestonew.com/
Facebook: https://www.facebook.com/FromAshesToNew/
Twitter: https://twitter.com/FromAshestoNew
Instagram: https://www.instagram.com/fromashestonew/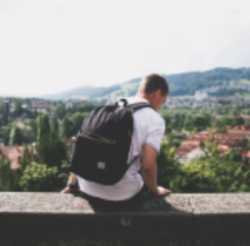 Latest posts by George Millington
(see all)
Facebook Comments