London based trio, F4CADE, have just released their brand new single 'Sand', a dreamy and unique track, showcasing an immeasurable level of artistry and musical prowess.
F4CADE are the creators and guiding lights of the new "Art Wave" genre. Building on their experience at the world-renowned BRIT School in London, they create fresh and new art-focused music, blending early 80's New Wave, soaring vocals and smooth 80's synths, accompanied by 60's style guitar and fretless bass. This leads to a unique, engaging and ethereal sound that weaves cutting edge and romantic music together while drawing on the legacy of the 60's to the 80's.
Their latest single, 'Sand', perfectly captures their signature "Art Wave" sound. Free and flowing bass lines provide the rhythm, while jangling guitar and 80's inspired synth pads envelope the listener, creating a soaring and ethereal atmosphere. The poetic lyrics are delivered through layers of smooth, passionate and emotive vocals. The vibrant music video highlights F4CADE's creative talent, perfectly complementing the track and blending into single audio holistic experience.
If you love music that is truly unique, created with no boundaries, then you will love F4CADE and their dreamy new single, 'Sand'. You can also hear them in person at the Notting Hill Arts Club on 13th July and the O2 Academy Islington on 1st August – details on their website.
FREE Magazine Every Saturday!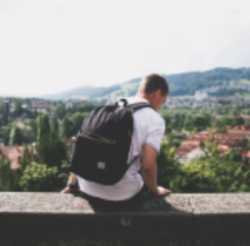 Latest posts by George Millington
(see all)