Arctic Monkeys at Emirates Old Trafford, Manchester – Gig Review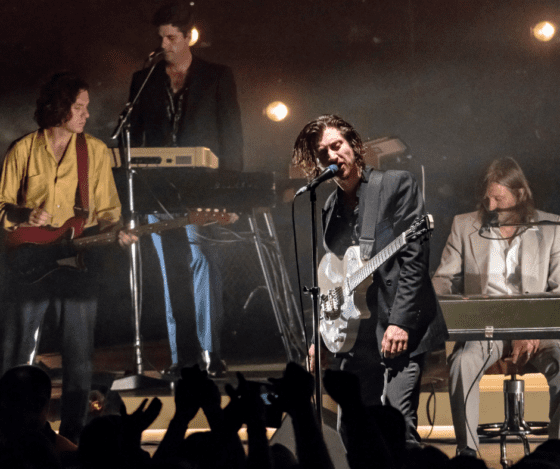 Jump To The Discussion ↓
Saturday, 3rd June 2023 will forever be etched in the annals of indie-rock history, as Manchester bore witness to a momentous event—the transcendental performance by the illustrious Arctic Monkeys at the hallowed grounds of Emirates Old Trafford. The air was charged with palpable excitement, as devout fans eagerly awaited the next leg of the band's UK tour, a prelude to their highly anticipated appearance on the main stage of Glastonbury later in the month. Adding to the fervor were the blistering talents of The Hives, a resolute force in rock music, and the burgeoning stars, The Mysterines.
Under the radiant glow of the sun, The Mysterines seized the stage, igniting the evening with an exuberant display of vitality. Their gritty, garage rock sound reverberated through the rapidly swelling crowd, setting the foundation for the exhilarating night that lay ahead. Following suit, The Hives took command of the stage, cranking up the decibels with their signature fusion of punk and rock. Commencing their set with the explosive anthem, "Bogus Operandi," they snatched the attention of the audience with unwavering authority, leaving their mark in a crescendo of deafening applause.
During their spirited performance, The Hives' frontman ventured fearlessly into the crowd, causing a maelstrom of elation and vehemence. Following a brief intermission, they reemerged with their chart-topping single, "Tick Tick Boom," goading the audience into an unbridled rage. The fans responded with unreserved abandon, further fueling the already simmering energy within the stadium's confines.
After The Hives' rousing display, the moment of reckoning finally arrived—the arrival of Yorkshire's prodigal sons, the Arctic Monkeys. Led by the mysterious maestro, Alex Turner, the band emerged onto the stage amidst an explosive chorus of anticipation. Commencing their set with the timeless classic, "Mardy Bum," the crowd erupted into an ecstasy befitting of a long-awaited reunion, given the considerable time since this 2006 earworm graced a setlist. From thereon, the Sheffield stalwarts effortlessly traversed their diverse discography, delivering fan favorites such as "Brianstorm," "Crying Lightning," and "Teddy Picker." Each song was met with an outpouring of fervent energy from the audience, who serenaded the band with unwavering ardor.
The visual production lent itself flawlessly to the musical odyssey, with a kaleidoscope of vibrant lights and captivating stage design, harmonizing seamlessly to enrich the overall experience. As the night reached its crescendo, Arctic Monkeys launched their final aural assault, culminating with the explosive anthem, "R U Mine?" The entire stadium broke out in a euphoric frenzy, a tumultuous outpouring of joy and rapture, as fans reveled in the band's irresistible vitality, their spirits soaring on the wings of unadulterated bliss.



Latest posts by George Millington
(see all)