Alicyn Packard Interview With Colby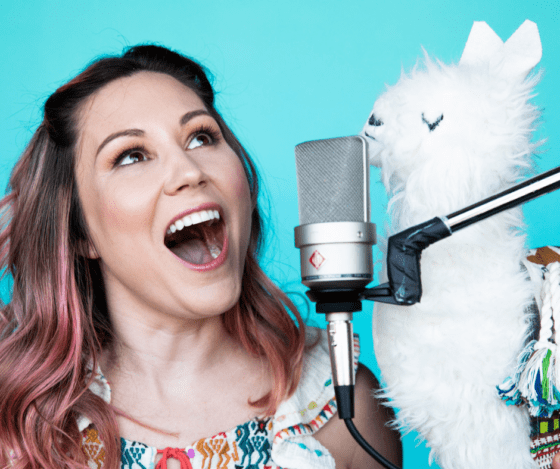 Photo Credit: Robyn Von Swank
Jump To The Discussion ↓
Alicyn Packard is an American voice actress and writer. She stopped by for a chin wag!
Colby: Hello, Alicyn. We appreciate you spending time with us today. One can only assume that your career has been a fantastic adventure as you look back on it. When did you first tell yourself, "I want to be a voiceover artist", do you remember?
Alicyn: I wanted to be an actor for as long as I can remember, but growing up there wasn't as much awareness about voice acting, specifically. Technically, my first voice acting job came in high school when I was doing the musical "A Christmas Carol" at a local community theater. I played Fan, Scrooge's sister who had a dramatic death scene off stage, so I performed into a microphone just off stage. Later, in college, thanks to CP Casting, a local casting agency in Boston, I booked my first audition for Prentice-Hall textbooks, which turned into an 8 month gig.  By the time I moved to Los Angeles, I had a handful of credits under my belt and probably more confidence than I deserved, but by that point, I was quite certain I wanted to be a voice actor. It has been an adventure, filled with ups and downs, but I wouldn't have it any other way. 
Colby: You've worked on several cartoons over the years; have cartoons always been something you have had an interest in? 
Alicyn: I love cartoons, and as a grown, adult woman, it's still probably the area of television I watch most! Animation feels like magic to me. Working on shows I grew up on, like "Tom and Jerry" and "Rugrats" have been such a trip. I wish I had a time machine so I could go back and tell my younger self and totally blow her mind. But beyond my love for the genre, the people that work in animation are the nicest in the business and I think that's what drove me to focus on pre-lay animation. Also, the writing in animation is so eclectic and amazing. I feel truly blessed to work in an industry that I deeply respect and admire with so many talented people. 
Colby: You have extensive experience in the field of video games as well. Do you enjoy playing games in your own time? 
Alicyn: Growing up, my sister and I had every Nintendo and Sega console, and we loved video games. These days, I don't really have a lot of time for a new hobby, but there's a bunch of games I worked on and I'm dying to play, like Neon White and Ratchet and Clank: Rift Apart. When you work on something for a while, you're always dying to see the full world. Gameplay on YouTube is cool, but I'm really hoping someone will invite me over soon. 
Colby: Do you have a specific location where you go to get inspired?
Alicyn: The loft in my studio is my happy place. I love having a place to call my own that is dedicated to creation. I do my best not to bring electronics up there and love to just open myself up to the universe to see what insights come through. 
Colby: Finally, what do you believe is the secret to becoming a successful voice actor?
Alicyn: Perseverance! Building a career often takes more time than you think, even if you work hard. You need to keep going even when things are not going the way you planned because everyone pops at a different time. Find joy in the small wins and keep on keeping on. Your career is on the other side of your obstacles. 
Latest posts by Colby Morrel
(see all)