Alfie Templeman gets the funk flowing on his new track 'Obvious Guy'. It comes from his upcoming EP 'Happiness In Liquid Form'.
Born in 2003, the artist is still under legal drinking age. But, yet he brings a sound which many could mistake from an artist with decades of experience under their belt. Also, at the young age of 17, has already achieved tremendous success and his new track 'Obvious Guy' is testament to his infectious quality.
The new release kicks off with a disco beat which will leave you itching to get your dancing boots on. Alfie greets us with a sublime vocal performance with plenty of pop feel-good. Witty lyricism, makes this track stand out on in a distinct light with Alfie emphasising how much he does not want to be an 'Obvious Guy'.
Nick Hodgson
As the track progresses, we hear all kinds of sounds popping out of the mix. It makes for an unforgettable cocktail of all things fabulous. Speaking about the new track and style, Alfie said "I really love funk music and have always wanted to venture into it more and more with my own music – so it was great fun doing exactly that with the amazing Nick Hodgson! It came together extremely quickly, and everything is super tight."
For me, this is one of the most excellent pop funk tracks of the year. It is not often we hear an artist delve into this space. But, Alfie has found a style which works for him, and he leverages it to make a track which shines like a beacon.
So, what are you waiting for? You can take a listen to 'Obvious Guy' by Alfie Templeman below. Also, let us know your thoughts to his new release by commenting on our social media accounts. We love to hear your feedback, and I am sure Alfie will too.
---
FREE Magazine Every Saturday!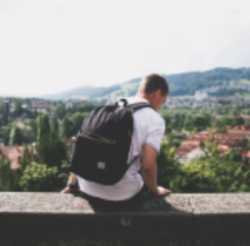 Latest posts by George Millington
(see all)