Alec Benjamin returns with 'Match In The Rain'. It is the first song which I have come across from the talented singer. But, although only just appearing on our radar, the musician has a huge following online. So much so, his previous hit 'Let Me Down Slowly' has racked up over 500 million Spotify streams, pretty good going, right?
His new track 'Match In The Rain' follows a similar vibe to his previous releases. He has a unique singing quality and a high pitched voice which makes him stand out to all the other male musicians dropping hits in modern times. He even had to point out on social media to fans that he is not a girl because of his higher than normal octave range, I was surprised people thought that but he does sound younger than his age of 26, and I am sure you will agree.
Strong Feeling
'Match In The Rain' is all about a strong feeling. He speaks about a relationship which is falling apart, and he expresses the emotions felt just before it all goes Pete Tong. It is a calming release, and he uses a push and pull method which lures us in and does not let go. The vocals are a durable quality which the singer possesses. As a result, he leverages it throughout the track with a diverse range of vocal delivery methods. Also, his music is mesmerising. It does not sound like anything else which I have come across in recent weeks; it is refreshing.
The selling point in the track is the chorus. It is nail-biting, and its infectous melody is beyond catchy. It sticks, and I have been unable to get it out of my head since its first play. So, if you are looking for an elegant pop gem, then look no further. You can listen to 'Match In The Rain' by Alec Benjamin below.
---
FREE Magazine Every Saturday!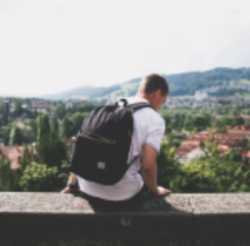 Latest posts by George Millington
(see all)